---
Earth Alive Announces EA1TM Dust Suppressant Test Agreement with Leading Global Mining Company – EA1TM Dust Suppressant Development Update
Montreal, Canada, July 22, 2019 – Earth Alive Clean Technologies Inc. (CSE: EAC – "Earth Alive" or the "Company"), a Canadian soil health company and developer and manufacturer of state-of-the-art microbial technology-based products for sustainable agriculture and infrastructure maintenance, is pleased to announce the signature of a pilot application agreement with a leading global mining company for its proprietary EA1TM Dust Suppressant.
Under the terms of the agreement, this mining company will conduct a 20.000 m2 test application of EA1TM Dust Suppressant at one of its mines located in southern Africa. This first phase trial is scheduled to begin in the fourth quarter of 2019 and represents sales of C$126,000 for Earth Alive.
"We are looking forward to beginning this project," said Earth Alive CEO, Michael Warren. "We have no doubt that this application will lead to a similar sales cycle as that from the customer we began operations with in November 2018, which is now entering phase two with a C$2.6 million test in Latin America. We are confident that, as our EA1TM Dust Suppressant gains increased exposure, recognition, and credibility, we will see a direct correlation to increased sales and strong growth."
"Water management has become fundamental in mining operations, and accordingly, dust control practices are changing. Earth Alive products are proven to bring an innovative solution to tackle this issue, lowering operating costs and water needs. EA1TM has been tested and validated at nine different sites throughout the world, in various conditions, and it has continuously shown its efficacy in significantly managing road dust," added Mr. Warren.

EA1TM Dust Suppressant Development Update
Discussions are underway with a number of major mining companies following the Company's participation in the Mining Cleantech Challenge in Denver, CO
EA1TTM Dust Suppressant is in transit to China to commence application on a large construction site
A Russian group began the import process to use EA1TM on roads and as a dust control solution for coal rail transport wagons. Accordingly, Earth Alive is in the process of filing for a Certificate of State Registration in that country.
Several orders have been shipped to France for various field trials.
---
EA1TM  Dust Suppressant Pipeline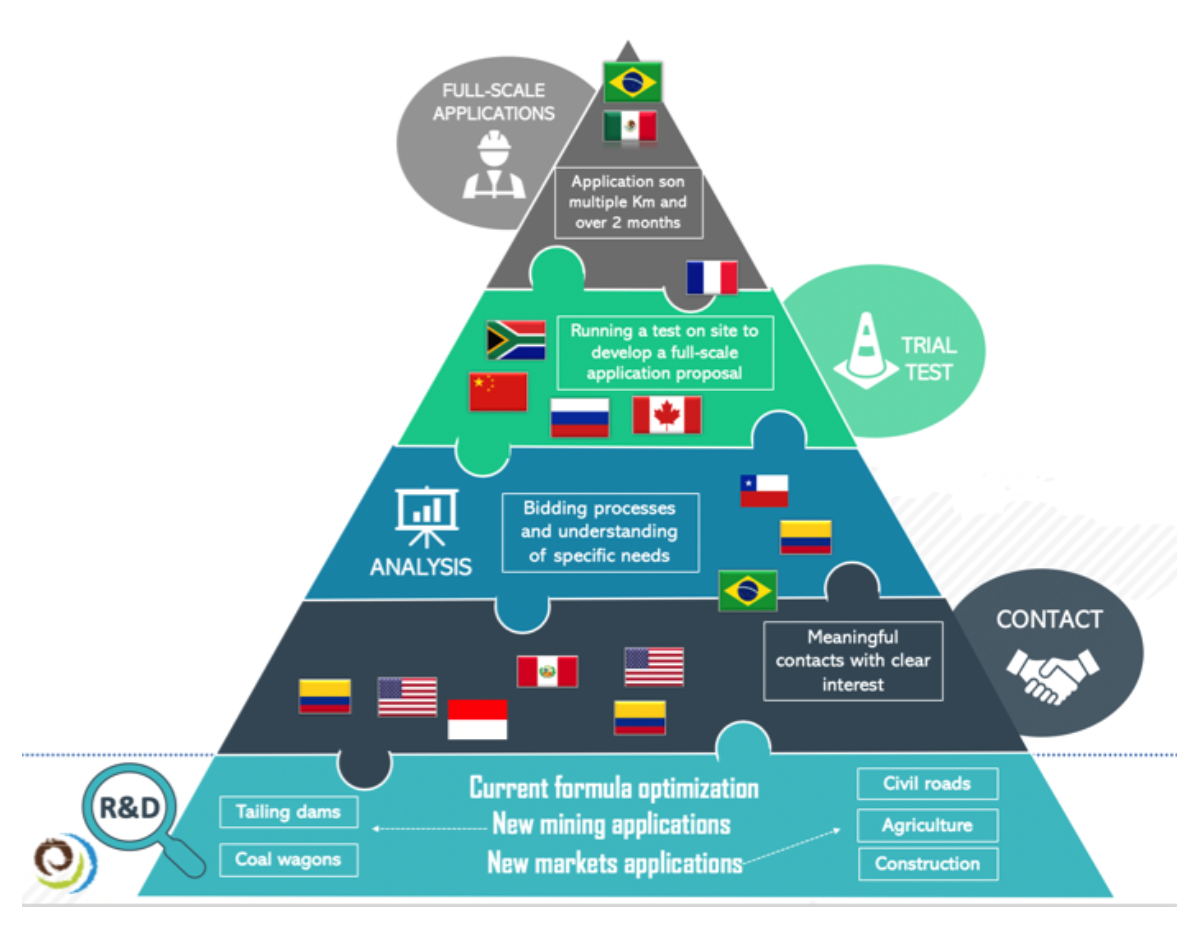 About EA1TM Dust Suppressant
EA1TM is the first and only microbial dust control technology. EA1TM tackles the issue of fugitive dust particles that have serious negative consequences on industrial operations, the environment and the health of workers and neighboring communities. By reintroducing natural microbial strains into the ground, EA1TM prevents dust from becoming airborne and eliminates the need for water application to abate dust for two weeks.
---
The CSE has neither approved nor disapproved the contents of this press release. The CSE does not accept responsibility for the adequacy or accuracy of this release.
---
Forward Looking Information
Except for statements of historical fact, this news release contains certain forward-looking statements within the meaning of applicable securities law. Forward-looking statements are frequently characterized by words such as "plan", "expect", "project", "intend", "believe", "anticipate", "estimate" and other similar words, or statements that certain events or conditions "may" occur. Although Earth Alive believes that the expectations reflected in the forward-looking statements are reasonable, there can be no assurance that such expectations will prove to be correct. Such forward-looking statements are subject to risks and uncertainties that may cause actual results, performance or developments to differ materially from those contained in the statements. Except as required under applicable securities legislation, the Company undertakes no obligation to publicly update or revise forward-looking information, whether as a result of new information, future events or otherwise.
Earth Alive Clean Technologies Inc.,
9641 Rue Clement
Lasalle, Québec Canada
H8R 4B4
For information, please contact:
Mr. Michael Warren
(e) mwarren@earthalivect.com
(p) 438 333-1680